---
---



Elmo's PreSchool
from Creative Wonders
For Ages 2-1/2 to 5
See also the Summary Rating Table for comparisons with other Early Learning software titles, and the SuperKids Buyers Guide for current market prices of this PC-only title.
Reviewed on: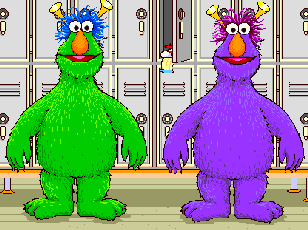 Pentium133 with 32MB and 12XCD


Description
What is it that makes Elmo such a favorite among children of all ages? Is it his gravelly voice, his childlike language use, or his penchant for giggles and tickles? Most likely its a combination of these and many other traits that appeal in very basic ways.

Whatever it is that draws kids to the "Sesame Street" idol, it exists in major doses in this early learning program from Creative Wonders. Elmo makes this program. If your child loves Elmo, buy it. If not, this program may make an Elmo lover out of him or her yet! In any case, Elmo's Preschool is a well-planned program with much of the upbeat teaching style pioneered by it's inimitable creators.

The user begins in Elmo's playground, which, in addition to featuring many entertaining 'click and see' interactions, includes five locations to visit and investigate. Each location includes two structured games, as well as numerous 'freeplay' activities. Locations include The Music Room, which focuses on sound and pattern recognition; the Letters Room, in which children learn to identify letters and spell simple three letter words; the Face Treehouse, where the user identifies facial expressions and their associated emotions; the Shapes and Colors Tent, which stresses shape and color identification, as well as pattern reproduction; and the Numbers Clubhouse, which provides fun drills in number recognition and counting skills.

Ease of Install / Use
Elmo's Preschool was easily installed on our reviewers' PCs. The CD includes a useful Parent's Guide that details each of the activities and its educational motivation and benefits. It also includes a delightful "I Can Do It" certificate that can be customized and printed by the proud preschooler.

Educational Value
Activities included in Elmo's Preschool provide practice in number, letter, sound, shape and color recognition, as well as critical thinking and problem solving skills. Content is, for the most part, presented in the multisensory manner popularized by "Sesame Street&quot". For example, when a correct response is given in the number matching game, a cloud appears at the top of the screen. An animated sequence takes place within the cloud, reinforcing the number itself, as well as the counting sequence that results in the featured number.

Kid Appeal
With its familiar "Sesame Street" setting and well-loved tutor/playmate, Elmo's Preschool provides a comfortable, non-threatening environment for early exposure to educational software. The hands-down favorite activity among SuperKids' child reviewers was the Face Treehouse. One parent commented: "[My son] insisted on playing "Make a Face" first thing each morning for a week!"

Best for... / Bottom-Line
Elmo's Preschool is best for the very young computer user who is content with simple, straightforward pre-reading and pre-math activities. Familiarity with, and fondness of "Sesame Street"'s famous furry character, although not requisite, will certainly add to the child's overall enjoyment of the program.


See also the Summary Rating Table for comparisons with other Early Learning software titles, and the SuperKids Buyers Guide for current market prices of this PC-only title.

| | | |
| --- | --- | --- |
| | PC | Macintosh |
| Operating System | Windows 3.1 or later | not available |
| CPU Type and Speed | 486 or faster | |
| Hard Drive Space | 1 MB | |
| Memory (RAM) | 4 MB (8MB recommended) | |
| Graphics | VGA 256 colors (640 x 480) | |
| CD-ROM Speed | 2X | |
| Audio | Windows-compatible sound card | |
| Other Needs | mouse | |
return to top of page
---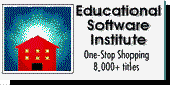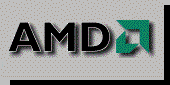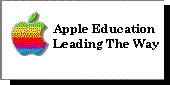 ---
Buyers Guide / Reviews / Contents / Sponsors / Help


Questions or comments regarding this service? webmaster@superkids.com

Copyright © 1997 Knowledge Share LLC All rights reserved.