---
---



Ultimate Children's Encyclopedia
from The Learning Company
For Ages 7 to 12
See also the Summary Rating Table for comparisons with other CD Encyclopedia, and the SuperKids Buyers Guide for current market prices of this PC-only title.
Reviewed on: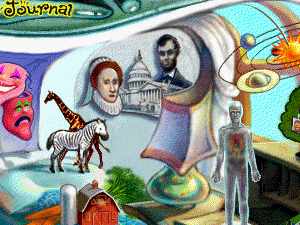 Pentium90 with 24MB and a 2XCD


Content
The Ultimate Children's Encyclopedia (UCE) is billed as a "complete reference library" for kids age 7-12. Built around a collection of six children's reference books, including an encyclopedia, dictionary, atlas, and thesaurus, it features a kid-centric user interface -- Zak's bedroom.

Zak's room appears to be a mess, until you put on his special goggles. Those reveal a collection of objects that can be used to access information on an impressive array of subjects: the arts, animals, astronomy and space, buildings, countries and places, the Earth, food and plants, great lives, history, the human body, ideas and beliefs, language and literature, machines, and more.

"Neat!" said our reviewers. But how would Ultimate perform in our four question test?

Not as strong as we expected, given the source of our questions (kids). UCE provided our reviewers with partial answers on only two of the four questions. It had material that addressed a natural science question from a first grader ("Why do leaves fall off trees"), and partially answered a physical science question from a senior high student ("Why do some buried organic materials become coal, while others turn into oil?").

Ultimate failed to provide any information on the other two: a biology question from an eighth grader ("Why does hair turn gray?"); and a history question that stumped all the programs we reviewed ("How did the ancient Greeks make perfectly cylindrical pillars?")

Internet Connectivity
The Ultimate Children's Encyclopedia offers the ability to access additional information online, but in reality, this is limited to connecting to Compton's New Media Forum on America Online. Other browsers can be used, but when launched in Zak's room, they take the user to whatever homepage the user's browser is set on - like Netscape's home page.

Ease of Install / Use
UCE installed without difficulty on our test PC. The installer gives the user a choice of install size, ranging from a small of only 96KB, to a large of 8.8MB. We went with the default install of around 5MB and found the performance satisfactory.

Our kid reviewers found this to be a somewhat frustrating program to use when their goal was to find an answer to a specific question. Picture a 7 year-old trying to figure out what category to look under for a given question, and then, if no answer was found, trying to decide where to look next. Even after the parent pointed out the all-category searching 'find' button, answers to questions were not always found in UCE.

On the other hand, our parent and kid reviewers reported much greater satisfaction when they were just roaming through the program, looking at whatever neat things they encountered or discovered. "this is what the program is best for," according to one adult, "exploration."

Bottom-Line
Ultimate has a great concept - providing a fun and easy-to-use reference tool for 1st through 6th graders. This program is great for exploration, but it is not a substitute for an encyclopedia.


See also the Summary Rating Table for comparisons with other CD Encyclopedia, and the SuperKids Buyers Guide for current market prices of this PC-only title.

| | | |
| --- | --- | --- |
| | PC | Macintosh |
| Operating System | Windows 3.1 | not available |
| CPU Type and Speed | 486SX/25 or faster | |
| Hard Drive Space | 6MB minimum | |
| Memory (RAM) | 8MB | |
| Graphics | SVGA 256 color | |
| CD-ROM Speed | 2X | |
| Audio | Windows compatible sound card | |
| Other Needs | optional - modem for online use | |
return to top of page
---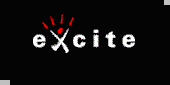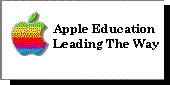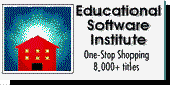 ---
Buyers Guide / Reviews / Contents / Sponsors / Help


Questions or comments regarding this service? webmaster@superkids.com

Copyright © 1996 Knowledge Share LLC All rights reserved.