---



Word Munchers Deluxe
by MECC
For Ages 6 to 11
See also the:
Reviewed on: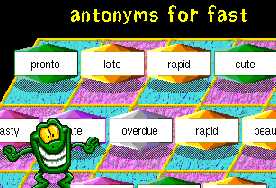 PowerMac 6100/60 with 8MB and 2XCD
Pentium90 with 24MB and a 2XCD


Content and Methodology
Word Munchers Deluxe (WMD) is an effective program designed to build confidence in reading, grammar, and vocabulary skills, through a vast number of drills. Based on the proven "Muncher" model (see previous SuperKids review of Math Muncher Deluxe), MECC has this time attacked some of the key components of reading: grammar, phonics, vocabulary, and sentence structure.

In WMD, the user is presented with a chessboard-like image, with words placed in the squares of the board. These words are possible answers to a question or problem posed at the top of the screen. The objective of the drills is to move a "muncher" (sort of a short version of Gumby) to the squares containing correct answers, and have him/her/it "munch" the answer BEFORE being eaten by a Troggle! The good news here for younger students, is that the Troggle-eating feature can be turned off - we recommend that for all but the most adroit users.

Winning a round gives the user another muncher. After every three rounds, the program provides a minute or so of comic relief, in the form of an animation similar to one of the old Rocky and Bullwinkle "Fractured Fairie Tales." These include variations on stories like the Wizard of Oz, Humpty Dumpty, and Aladdin.

The program offers considerable user flexibility. At the outset of each session, the user sets the grade level (1st through 5th), selects a category, and a subcategory focus, if desired. For example, the choices at the first grade level include:

Category	Subcategory
Classification:	color, shape, design, class
Grammar:	naming, action, and describing words
Phonics:	initial / final consonants, vowels
Vocabulary:	rhyming words
Sentences:	[same as Grammar]
Challenge:	all of the above

Sample questions at this level include things like: "munch the red things," "find the triangles, "eat the water animals," or "find the cones." How much practice does WMD provide? We counted 32 different levels for the first grade classification category alone, before noticing repeats!

The choices at higher grade levels are similar, but increasingly difficult:

Category	Subcategory
Grammar:	nouns, adjectives, verbs, pronouns, adverbs
		interjections, prepositions
Phonics:	vowels
Vocabulary:	synonyms, antonyms
Sentences:	[same as Grammar]
Challenge:	all of the above

Here, sample questions include things like: find the synonyms for the word 'mad.' Choices might include the words: offended, serene, furious.
Ease of Install / Use
Installation was painless on both our PC and Mac test machines. Ease of use was equally intuitive - a good thing, since the program ships without a printed manual. Instead, users can go to a very brief "Read Me" file on the CD for basic instructions and trouble shooting tips.
Proxy Parent Value
Proxy parent value is SuperKids measure of how well a program grabs and holds a user's interest. WMD scored surprisingly well on this measure. We say surprising, because many educators and reviewers criticize titles like this as being "old fashioned, drill-and-kill" programs. In this case, we must disagree. Although WMD does not offer the user much in the way of explanatory teaching, it does provide an exceptional amount of practice material, in a format many children will find captivating.
Best for...
WMD is appropriate for a broad range of students, ranging from those just becoming comfortable with reading, to those learning sentence structures at school. With the Troggle-eating feature enabled, it should appeal to the game-oriented; with it disabled, it should be fine for those turned off by video games.
Bottom-Line
This is a solid drill program that will provide hours of practice for young readers.


See also the:

| | | |
| --- | --- | --- |
| | PC | Macintosh |
| Operating System | Windows 3.1 or higher; win95 | System 7.1 or later |
| CPU Type and Speed | 486/50 or faster | 68040 or faster |
| Hard Drive Space | 0.5MB (min) to 13MB (full) | 13MB |
| Memory (RAM) | 8MB | 8MB |
| Graphics | 256 color SVGA | 256 color, 640x480 |
| CD-ROM Speed | 2X | 2X |
| Audio | Windows-compatible sound card | n/a |
| Other Needs | Windows-compatible mouse | n/a |
return to top of page
---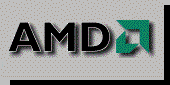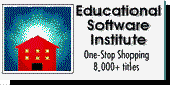 ---
Buyers Guide / Reviews / Contents / Sponsors / Help

Questions or comments regarding this service? webmaster@superkids.com

Copyright © 1996 Knowledge Share LLC. All rights reserved.