---



Alphabet Express
by School Zones Interactive
For Ages 3 to 6
See also the:
Reviewed on: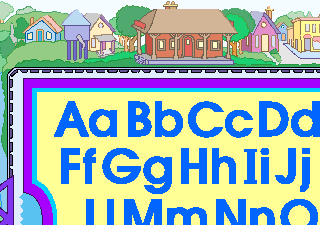 PowerMac 6100/60 with 8MB and 2XCD
Pentium90 with 24MB and a 2XCD


Content and Methodology
Alphabet Express is an introductory program designed to teach young children the letters of the alphabet, the sounds they make, and their sequence. Oh, and be sufficiently entertaining to capture the user's attention. Alphabet Express achieves these goals.

The program is built around an alphabet chart that provides access to 24 letter scenes (X,Y, and Z are combined). When clicked on, the user is taken through a short 'Sesame Street'-like animation to a colorful scene that includes lots of objects, some of which begin with the letter chosen. For example, clicking on "A" causes the narrator to say the letter's name, then "I'll bet there are lots of fun things in an attic." The scene changes to an attic that includes objects like an: arrow, apple, airplane, astronaut, alligator, anchor, animals - well, you get the picture. There are also a few objects that don't begin with the chosen letter. Therein lies the discovery challenge for the user - click on things that begin with the right letter, and be rewarded by the object saying its name, followed by a cute animation. Incorrect choices produce no response.

After exploring a scene, the user may turn to three different coloring activities, one a simple black&white line drawing featuring the letter and a few objects, another that provides a colorable version of the letter scene, and the third an illustrated diagram of how to print the letters. Left on their own, our kid reviewers tended to gravitate toward these activities.

The user can also choose to go to a firehouse, and help the fireman put out a fire by matching the letter with objects that begin with that sound. This activity has three difficulty levels which vary the number of objects to choose from.

Back at the main letter chart, the user can also access several other activities that add much to the value of the program. The first is a collection of dot-to-dot drawings that provide the user with practice in correctly sequencing letters. After successfully connecting the dots, the user is rewarded with a short animation. This activity also has multiple difficulty levels. Another activity involves mazes. Here, the user is challenged to remove obstacles by clicking on objects that begin with the correct letter. "Find the hidden letters" is another activity. Three to five letters are hidden in colorful drawings, encouraging a child's letter recognition abilities.

Ease of Install / Use
Alphabet Express installed without difficulty on our reviewers' machines. One went so far as to note that, "this was the easiest to install software ever!" on her PC. We'd like to add one caveat to that assertion: this is a big piece of software for a CD title. Although not in the hard drive-devouring category of several popular office packages, it still manages to eat up 12MB on a Mac, and over 14MB on a PC. Unfortunately, there's no built-in uninstall utility.

The program is easy to use, although navigation between sections of the program was not considered intuitive by our reviewers. The program includes a parent's guide on the CD, which our reviewers found useful.

Proxy Parent Value
Proxy parent value is SuperKids' measure of how well a program grabs and holds a child's attention. We tested Alphabet Express on children spanning the entire recommended age range, with outcomes that varied depending on their existing familiarity and comfort with letters and sounds.

Best for...
For children just learning the alphabet and the sounds they make - and interested in learning about reading - Alphabet Express was a winner. "My four year-old daughter is doing a lot of work in pre-school with letters and phonics, and was captivated by this software," wrote one mother. She frequently asked to use it." But another wrote of her 6 year-old, "It's obvious that this software entertains my daughter, but it's not challenging her." This precocious child told her mother that Alphabet Express would be best for pre-kindergartners, "because it's not hard for a first grader."

Bottom-Line
This is a very good program for a child beginning to (and interested in) learning letters and sounds.


See also the:

| | | |
| --- | --- | --- |
| | PC | Macintosh |
| Operating System | Windows 3.1 or later | System 7.0 or later |
| CPU Type and Speed | 486 | 68030 |
| Hard Drive Space | 15MB | 4MB - 15MB |
| Memory (RAM) | 8MB | 8MB |
| Graphics | 640x480x256 colors | 640x480x256 colors |
| CD-ROM Speed | 2X | 2X |
| Audio | 8 bit | 8 bit |
| Other Needs | Video for Windows 1.1 | QuickTime 2.0 |
return to top of page
---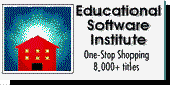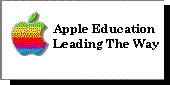 ---
Buyers Guide / Reviews / Contents / Sponsors / Help


Questions or comments regarding this service? webmaster@superkids.com

Copyright © 1996 Knowledge Share LLC All rights reserved.