Rating Scale
5 = great, 1 = poor
Educational Value - 3.6
Kid Appeal - 3.9
Ease of Use - 4.9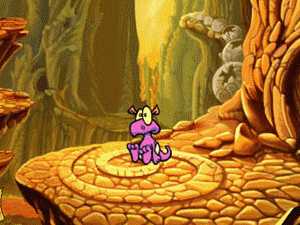 System Requirements

PC / Mac Price Survey

Product Support

Even fans of the Warner Brothers animated feature "Quest for Camelot" will be disappointed with this uninspiring software adventure. In fact, if not for the addition of a virtual pet -- a charismatic dragon that the user raises from a hatchling to a self-sufficient pre-teen, the program would be a total ho-hum.

Little Puff (or whatever his surrogate parent chooses to name him) not only comes complete with care instructions, but a disarming personality as well. From the moment he hatches he makes his needs known, crying and reaching for his bottle when hungry, becoming droopy eyed at naptime, and making nasty faces when his diaper is dirty. As he grows he interacts more and more, pressing his face up against the screen to peer out at the omnipotent user. Approaching independence, he begins to act-out, as any normal pre-teen would, adopting an obnoxious attitude and making statements like, "Do we HAVE to do this," and "Am I getting an allowance for this?" Suddenly he leaves the nest, but continues to send messages via "dragon mail".

There are 6 additional activities included in the program. 'Magic Potions' lets the user mix magical potions to make beastly creatures while 'Make a Minion' invites the user to create amusing monsters by mixing and matching body parts then sprinkling the creature with magic potion to watch him animate in silly ways. 'Ruber's Barricade' is a knock off of the well-known arcade game "Brickles".

Three activities literally borrow clips and animation from the Quest for Camelot film. 'Dragon Tales' is a mini storybook maker in which the child uses movie backdrops and scenes, 'Singalong' lets kids follow the bouncing Bladebeak (a character from the movie) to learn original Dragon songs, and 'Ogre's Movie Cave' is nothing more than a collections of short clips from the movie.

Although Dragon Games is largely an entertainment package, it does include some inherent educational value. In any computer-based experience there is value in becoming friendly with the computer and how it works. A much enjoyed software program will get used, and through use children become adept and comfortable computer users.

Additional value can be found in this programís storybook section, which allows children to practice their writing skills, the singalongs which require some reading, and the 'Raise a Dragon' activity through which kids experience some of the trials and tribulations of raising a pet.

Our kid testers fell in love with the virtual pet dragon, and spent hours closely monitoring his care and feeding. Even older reviewers found him irresistible. As they eventually began to tire of the responsibilities of ownership, they moved on to other activities. Although they initially enjoyed these (with the exception of the movie clips), none had the ability to sustain their interest.

Quest for Camelot Dragon Games installs without difficulty on Windows 95. However Quest for Camelot commits a sin during the process: in the course of installation it also installs Netmarket -- an advertisement that, when opened, starts up the userís internet software and connects to the Netmarket website. An uninstaller is included, however some of our reviewers noted that they still discovered files installed by Netmarket after uninstalling the program.

Program navigation is extremely simple. The main screen is a map which allows the user to easily access any of the programís many activities.

Best for... / Bottom-Line


Virtual pet lovers will enjoy this movie-based program, which unfortunately includes little else that is new or intellectually stimulating.
See the Buyers Guide for current market prices of the PC and Mac versions.
PC: Window 95, 486/66 MHz or faster cpu, 6 MB hard drive space, 16 MB RAM, 256-color, 640x480 display, 4x or faster CD-ROM, Sound Blaster or compatible sound card QuickTime software (included)

Mac: System 7.5.1 or higher, Power PC or faster cpu, 6 MB hard drive space, 16 MB RAM, 256-color monitor, 4x or faster CD-ROM QuickTime 2.5 (included)

Reviewed on:

PowerMac 6400/200 with 32MB and 8XCD
Pentium166 with 24MB and 12XCD
return to top of page
---

Questions or comments regarding this site? webmaster@superkids.com
Copyright © 1998-2016 Knowledge Share LLC. All rights reserved. Privacy Policy