free newsletter!

tell a friend!

contests

software
reviews
bestseller list
price survey
what's new
product support
search

educational tools
math worksheets
vocabulary builders
hangman
iPhone/iPad apps
logic games
brain food

educational insights

feature articles

marketplace
iPhone/iPad apps
reading corner
movie corner

SuperKids home
about SuperKids
advertise!
humor
links
help


* * *

Promotions



* * *



* * *



educational tools > > > quotes > > > brain food
SuperKids Brain Food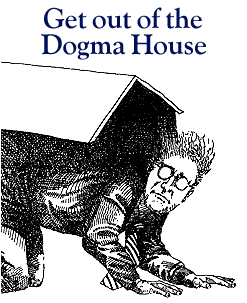 Nothing clouds your decision-making abilities like dogma. Example: none other than Plato himself dictated that the circle was the perfect form for celestial movement, and for the next two thousand years, astronomers said that planetary orbits were circular -- even though their observational data suggested otherwise. Even Copernicus used circles in his heliocentric model of the universe. Only after much soul-searching did Kepler use the ellipse to describe the heavenly paths. Everyone has externally-imposed "shoulds" and values that influence their thinking. What dogma is clouding your mind? How does it affect the way you view your issue?






Creative Whack images and text used with the permission of CreativeThink. Copyright © Roger von Oech. All rights reserved.
---

Questions or comments regarding this site? webmaster@superkids.com
Copyright © 1998-2016 Knowledge Share LLC. All rights reserved. Privacy Policy