free newsletter!

tell a friend!

contests

software
reviews
bestseller list
price survey
what's new
product support
search

educational tools
ask a scientist
math worksheets
vocabulary builders
hangman
iPhone/iPad apps
logic games
brain food

educational insights

feature articles

marketplace
iPhone/iPad apps
reading corner
movie corner

SuperKids home
about SuperKids
advertise!
humor
links
help


* * *

Promotions




* * *



all reviews > > > reading software
Clue Finders Reading Adventures

The Learning Company

Ages 9 to 12
Rating Scale
5 = great, 1 = poor
Educational Value
4.0
Kid Appeal
4.3
Ease of Use
4.0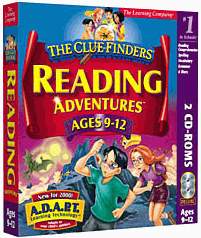 System Requirements

PC / Mac Price Survey

Product Support

Subtitled "The Mystery of the Missing Amulet", this program takes the dauntless Clue Finder gang to the impact site of a large meteor, where a simple discovery transports them to the far-off planet Millennia. Here, Joni and Owen meet a mysterious princess who has summoned them to help save her beloved planet from destruction at the hand of a wicked sorceress.

To save the planet and rescue fellow Clue Finders, Leslie and Santiago, who are captives of the evil sorceress Malicia, the user must help Joni and Owen find the two halves of a missing amulet. They search the planet for clues, concurrently freeing its people from the dastardly spells that imprison them. But, as in any good mystery, all is not necessarily what it seems. Surprises abound as the user ventures forth to the farthest reaches of the planet, completing reading and problem solving games as the adventure's culmination draws ever closer.

The activities included in Clue Finders Reading Adventures drill the following reading skills: reading comprehension, spelling, vocabulary (including synonyms, antonyms, homonyms), and grammar (including parts of speech and sentence structure). In addition, general critical thinking skills such as problem solving, hypothesis testing, analogies and categories are involved and strengthened in this adventure. Kids must complete each activity multiple times to earn the clues needed to progress in the program. Because of the program's A.D.A.P.T. learning technology, questions become more and more difficult as the user achieves repeated success with the activities. This ensures that the all users are adequately challenged.

Our teacher reviewers were especially impressed with the reading comprehension section, which resembles an equivalent section in standardized tests (but with a fun twist) and therefore provides kids with an entertaining way to practice the skills required to do well in these tests.

The program includes a variety of different types of activities. Unfortunately, too many of them require fast-twitch gaming ability in addition to knowledge of the subject matter. Our student reviewers complained about these activities, noting that they didnít seem to drill their reading ability as much as their ability to dodge, aim and react.

As with other titles in this series, (see Clue Finders 3rd Grade Adventures and Clue Finders Math Ages 9 to 12) this program can best be described as an interactive cartoon episode. Heavy on the animation and intrigue, with a bit of well-disguised academics thrown in for good measure, the program's characters are likable and the animation is top-notch. The story progresses smoothly, yet is not without a few well-placed twists to keep users on their toes. Saturday morning cartoon addicts rejoice!

The activities themselves, however, are inconsistent. While some are novel and quite educational (our testers were especially impressed by "Rock Muncher", the reading comprehension activity, and "Gates of Mount Valdrok", a word deduction game), others are tired repeats of games seen many times over in many other programs. In addition, there is too much emphasis on fast-twitch ability, resulting in frustration for students who lack computer-gaming skills.

This program installs without difficulty on Windows 95/98. Program navigation is simple and straightforward. The 'map' option, which can be accessed by double-clicking on LapTrap is incredibly helpful when moving from one section of the program to another.

Best for... / Bottom-Line


This likable Clue Finders adventure provides an entertaining way for kids to practice their reading and language skills. Students who need significant help with their reading skills would do better with a more academically oriented title, and those who are not adept gamers may become frustrated with some of the activities.
See SuperKids' comparisons with other reading software titles, and the Buyers Guide for current market prices of the PC and Mac versions.
PC: Windows 95 or higher, Pentium 90 or faster cpu, 27 MB hard drive space, 16 MB RAM, 256-color SVGA display, Quad-speed or faster CD-ROM, Windows-compatible sound card.

Mac: System 7.1 or higher, Any Power PC, 27 MB hard drive space, 16 MB RAM, 256-color graphicsdisplay, Quad-speed or faster CD-ROM.

Reviewed on:

PowerMac 6400/200 with 32MB and 8XCD
Pentium166 with 24MB and 12XCD
return to top of page
---

Questions or comments regarding this site? webmaster@superkids.com
Copyright © 1998-2022 Knowledge Share LLC. All rights reserved. Privacy Policy