free newsletter!

tell a friend!

contests

software
reviews
bestseller list
price survey
what's new
product support
search

educational tools
ask a scientist
math worksheets
vocabulary builders
hangman
iPhone/iPad apps
logic games
brain food

educational insights

feature articles

marketplace
iPhone/iPad apps
reading corner
movie corner

SuperKids home
about SuperKids
advertise!
humor
links
help


* * *

Promotions




* * *



all reviews > > > science software, astronomy software,
Astronomy

Compton's Learning

Ages 16 to Adult
Rating Scale
5 = great, 1 = poor
Educational Value
5.0
Kid Appeal
4.2
Ease of Use
4.0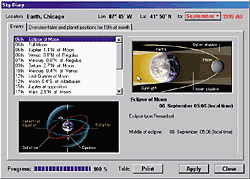 System Requirements

PC / Mac Price Survey

Product Support

Now you don't have to be an astronaut to travel through the space, or consult a telescope to view the night sky. Astronomy makes space exploration and investigation available to all. Featuring the popular "RedShift" software, Astronomy also includes multimedia tutorials and scientific data from NASA's Jet Propulsion Lab. Students can master their understanding of the planets and stars, explore space through customizable settings, and research the history of the universe. They can even learn about space craft and extraterrestrials.

Astronomy includes everything you ever wanted to know about the subject. It is filled, not only with facts and figures, but with maps, tours, interactive tutorials and movies as well. Graphics, photos, animations and 3D models help learners better grasp the concepts and information being shared.

Students can watch an eclipse that occurred thousands of years ago, or an event that has yet to happen. They can view the solar system from their own latitude and longitude, or from a distant star. Views can be rotated to provide better understanding of each. A 'Sky Diary' includes a list of special occurrences for each month, so that students can prepare for and observe actual events.

Star data is provided from the latest Hipparcos and Tycho catalogs. Students can click on a star to find out an abundance of relevant information including its star number and distance from Earth. In addition to more than a million stars, the program offers information on all the planets and constellations, more than 7,000 minor planets, asteroids and comets.

The Penguin Dictionary of Astronomy is included for quick reference. A special 'News' section includes web links to keep the user up-to-date on the latest news and discoveries.

While Astronomy makes a great reference tool, and a seemingly limitless learning experience, it is not the best choice for teaching the basics of Astronomy to young students. They will be confounded by the technical terms used and sophisticated concepts discussed, overwhelmed by the abundance of included data and information and a bit bored by the program in general. It does, however, make an excellent family resource, and taken in small doses, it is appropriate for children much younger than the provided age range. "It's best for kids who like science," noted one 12 year-old tester, "It's not fun, but it is interesting and would help with reports".

Astronomy installs without difficulty. The program begins with a lengthy introduction that explains the program's many features and gives an overview of the user interface. Program navigation is fairly simple, however it does require a bit of exploration and experimentation to master.

Best for... / Bottom-Line


This impressive program is brimming with information and options. It invites users to navigate the sky with customizable controls, star data, historical information, virtual reality simulations, online resources and more. While it is not recommended for young children, it can be introduced to middle school students, and makes a great addition to the family reference library.
See SuperKids' comparisons with other science software titles, and the Buyers Guide for current market prices of this PC-only program.
PC: Windows 98/95, Pentium, 100 MHz or faster cpu, 10 MB hard drive space, 16 MB RAM, 256-color SVGA display, 4x or faster CD-ROM, Windows-compatible sound card, Modem for on-line access.

Reviewed on:

Pentium266 with 64MB and 12XCD
return to top of page
---

Questions or comments regarding this site? webmaster@superkids.com
Copyright © 1998-2023 Knowledge Share LLC. All rights reserved. Privacy Policy