free newsletter!

tell a friend!

contests

software
reviews
bestseller list
price survey
what's new
product support
search

educational tools
ask a scientist
math worksheets
vocabulary builders
hangman
iPhone/iPad apps
logic games
brain food

educational insights

feature articles

marketplace
iPhone/iPad apps
reading corner
movie corner

SuperKids home
about SuperKids
advertise!
humor
links
help


* * *

Promotions




* * *



all reviews > > > science software > > > astronomy software
Starry Night Deluxe

Sienna Software

Ages 6 and up
Rating Scale
5 = great, 1 = poor
Educational Value
4.5
Kid Appeal
3.5
Ease of Use
4.0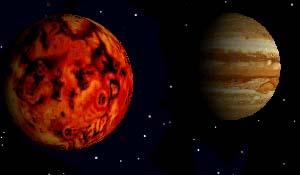 System Requirements

PC / Mac Price Survey

Product Support

Good news for beginning astronomers as well as serious observers! This astronomy software, which was originally released for Macintosh only, is now available for PC computers as well. The updated version continues the product's tradition of quality and usability, and includes additional options and information.

Featuring data on over 19 million stars, planets, moons, galaxies and nebulae across 14,700 years of time, Starry Night redefines the infinite sky. Users can search the program's files for specific objects. The screen then pans from the current sky location to the location of the object in question. Clicking on the "Get Info" button opens a pop-up window with important data about the object in question. If unsatisfied, a simple click accesses an Internet astronomy search engine that provides a list of astronomy-specific databases and initiates searches for additional information about the object.

In addition to the standard planetarium-type show of the night sky, Starry Night allows the user to view the cosmos from virtually any point in the solar system, at any point in time, and with the passage of time. This feature, combined with the 'movie capture' capability, allows the user to record interesting celestial events for later playback and sharing.

Other features include the ability to create and alter orbits of objects, and control certain telescopes with the use of a plug-in software tool included with the program. Viewable example files include eclipses, alignments, planet flybys, comet approaches and more.

Starry Night is a combination reference source, object locator, and educational tool. It allows students to view the sky in a user-friendly environment, question what they are observing, and delve further into those areas that they find interesting or useful.

We originally asked parents, teachers and kids to look at the Macintosh version of this program in early 1997. Almost three ears later, these same testers report that they still use the program when they observe the nighttime sky and want to know more about what they are seeing. "I've used the program with my kids when I know that a particular celestial phenomenon is at hand," commented one intrigued father. "Hale-Bopp, the Perseus meteor shower, or just 'what is that bright object' are events that drive us back to the program."

Starry Night installs with ease on Windows 95 and Macintosh platforms. A complete Quick Start Guide is included with the program, and although the creators have tried to make the program easy to use, our testers found that the guide helped them get the most out of the program.

One new use of the progam our reviewers reported: loading the program on a laptop computer and taking it outside to help identify objects in the night sky.

Best for... / Bottom-Line


This "passport to the heavens" is an excellent resource for students and families interested in studying astronomy at any level.
See SuperKids' comparisons with other science software titles, and the Buyers Guide for current market prices of the PC and the Mac versions.
PC: Windows 95, NT 4.0 or later, Pentium or faster cpu, 15 - 60 MB hard drive space, 16 MB RAM, SVGA 256 color-capable display, CD-ROM drive.

Mac: System 7.0 or higher, Power PC or faster cpu, 10 - 40 MB hard drive space, 8 MB RAM, 256 color-capable display, CD-ROM drive.

Reviewed on:

PowerMac 6400/200 with 32MB and 8XCD
Pentium166 with 24MB and 12XCD
return to top of page
---

Questions or comments regarding this site? webmaster@superkids.com
Copyright © 1998-2023 Knowledge Share LLC. All rights reserved. Privacy Policy